Today Dick told me about the exhibition I regret I missed at the Met,
the Mourners
. He only managed to see it on the last week through word of mouth, from fellow painter Ephraim Rubenstein. So, we decided to focus on three shows Dick thinks and I agree could have received major reviews and more attention, but did not.
First, the Boldini exhibition,
Giovanni Boldini in Impressionist Paris
which Dick saw thanks to another fellow painter, John Leavey, in
the Clark Institute
, Williamstown.
The Clark Institute has a fine collection, including superb Renoir.
"Boldini is an exceptional and neglected painter whose work is rarely seen today and the show should have been seen by many more people and certainly by artists." FC
There was a good
preview of the show in the NYT
, but no review.
Here are good examples of the range of Boldini's works:
Giovanni Boldini "Two White Horses"


Giovanni Boldini "Highway of Combes la Ville"
Giovanni Boldini "James McNeill Whistler"
The Mourners
, the exhibition that's just ended on Sunday was
reviewed by Ken Johnson in the Times
very late, in the last chance section.
"The Mourners: Medieval Tomb Sculptures From the Court of Burgundy" is a solemn processional of alabaster figures of monks and clerics at the Metropolitan Museum of Art.(NYT)




The figures, each approximately 16 in. high, explore expressions of mourning in individual postures, which suit the age and character of each particular mourner. They do so without exaggeration and without Gothic distortions of proportion or linear rhythm in the draperies. The naturalism never becomes caricature. The collective expression of humanity in these figures is overwhelmingly powerful. They will travel to various American cities before going back to Dijon and their architectural setting.
"The Mourners: Medieval Tomb Sculptures from the Court of Burgundy" Exhibition
Venue: The Metropolitan Museum of Art
Schedule: From 2010-03-02 To 2010-05-23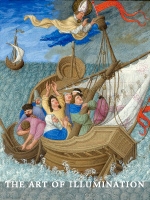 Finishing on June 13 at the Met,
The Art of Illumination: The Limbourg Brothers and the Belles Heures of Jean de France, Duc de Berry
presents the unbound manuscript from
The Cloisters collection. Dick saw it at the Getty Museum about two years ago, spent time with magnifying glass (provided by the museum), examining the many pages. The show is not to be missed.
Here is
a short review in the New Yorker
and
a longer one in the NYT
.